Tonight I took a little side trip on my way home and visited Sprinkles in Beverly Hills. If you aren't hip to cupcake culture, the Sprinkles in Beverly Hills was the world's first cupcake bakery. So, of course, I had to go! That and my mom keeps asking me if I have gone yet. :)
I was pleasantly surprised that there wasn't a huge line going out the door, but there was definitely a steady stream of people. I had planned on just getting two cupcakes, but once in the store... I
had
to get three.
My choices were--
Chocolate Coconut: Belgian dark chocolate cake with coconut cream cheese frosting
Ginger Lemon: Spiced ginger cake with lemon cream cheese frosting
Vanilla Milk Chocolate: Madagascar bourbon vanilla cake with fudgy milk chocolate cream cheese frosting
How fab are those descriptions?! No, I did not write them myself. The
Sprinkles website
has full descriptions and a schedule of all of the cupcakes that they offer.
So, first, I thought the store was super cute. It's all kind of a wooden, simple design. Even the cutlery they offer is wooden. Reminds me of those ice cream cups with the little wooden spoons. Cute!
The best cupcake was the Chocolate Coconut. The actual cake was very good, with a deep chocolate flavor, and the frosting was DIVINE! I always go for coconut cakes the have coconut frosting. You're probably thinking, "... duh!" But take a closer look next time you are at a cupcake joint-- a lot of them will call a cupcake coconut if it just has vanilla frosting with coconut flakes on it. Um, no. Not for this picky eater! So, I would DEFINITELY recommend this flavor.
The other two were not as good as the first. The best part about the
Vanilla Milk Chocolate
is the frosting-- perfect! And they asked me if I wanted sprinkles on it when I ordered it.
Of course, I want sprinkles!
But for all of the n
onpareils haters out there, they've got you covered. I was very excited to try the "Madagascar bourbon vanilla cake," but it really wasn't that good. I was expecting a rich vanilla flavor, and I didn't even get white cake flavor.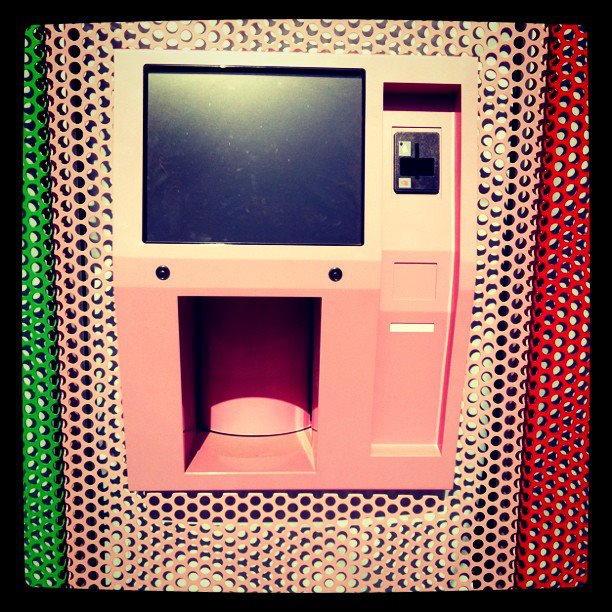 The Ginger Lemon was good, but I probably wasn't in as much of a "ginger" mood as I thought. I thought this cupcake was going to have more zing, but it didn't. I do like the frosting, so I think I would like this better in their lemon cupcake.
Overall, I can tell that their cupcakes are not overly sweet. I LOVE that. It was more about the flavor then just making it a sugary mess.
AND, they have a cupcake ATM. What?! If you're jonesing for some baked goods after hours, they've got you covered. What a GREAT IDEA!
Although some of my cupcakes kind of turned out to be duds, I will definitely go back, and I'm sure you'll see my mom and I there in the near future.